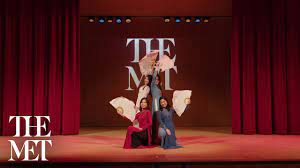 Here's our Vietnamese link for today: A Vietnamese, traditional Áo Dài and Dance at the Metropolitan Museum of Art. The four lady Vietnamese dancers are wearing what is called an Áo Dài, with a splint silk tunic and pants underneath, worn by men and women, particularly now on special occasions such as weddings and national celebrations. Click AoDai to read about this beautiful, flowing clothing.
This song has subtitles, at least on my computer screen, to the words of the song.
To see and hear it, click here.
DJ Doc K