Be a golden giant. Birth your golden light body. Together with all other golden giants, sing our One song: We are golden light, we are love in action, we are the I Am Nation. 
The above is our theme for this week, starting today, Sunday, December 12, 2021, a day ahead of my original schedule — note that it is a 12/12 day, a good day to start the last blog of this year's focus on the 12 Christ or I Am Powers; a good day and week to be born again.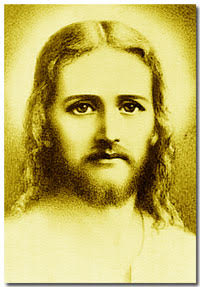 After having focused for 12 months on cleansing, renewing and repatterning each of our 12 spiritual attributes, now we are ready to cross over the threshold, to step through the cosmic doorway, to come out of our tomb/Womb, and to rebirth our golden I Am Self and light body on Earth. 
Gold is the cosmic color that carries the vibrations, energies and power of our fourth-dimensional, etheric, electric, light body, the body into which Christ Jesus resurrected following his crucifixion and entombment.
Not only did he resurrect his own light form, but he demonstrated and showed the way for all of us to follow in his footsteps. Moreover, he shone his golden, cosmic light on one and all in the astral and physical planes of our Earth schoolroom.
He lit up the whole planet, so that it might become the golden center or sphere for this entire solar system, radiating the golden light of the Seventh Ray of Peace and Love.
Sing Together 
So, let's start singing our cosmic song of the rebirth of our 12 powers, titled I Am Golden Light, as composed and performed by Deborah Jacobs and Janet Thiemermann, with the lyrics below. Click to play the song:
 I am golden light. I am love in action. Linking and uniting. This is my demonstration.
We are golden light. We are love in action. Linking and uniting. We are the I Am Nation.
I am faith and strength united. I am love and I am wise. I do God's will with God's own power. Golden light to spiritualize.
Through my window I see visions, Of a world that understands. The importance of our mission, The importance of God's plan.
All things balanced with new order, Bringing forth a greater zeal. New life for each one wholly, Saving only what is real.
We are golden light. We are love in action. Linking and united, This is our demonstration.
You are golden light. You are love in action. Linking and uniting, You are the I Am Nation.
I Am Nation
Following is the Proclamation of the I Am Nation:
Let us give abundant thanks to Spirit for all It has accomplished in us and for us. We embrace and proclaim the establishment of the I Am Nation for all on Earth.
The I Am Nation is not a place. It is a pledge of consciousness and actions. I Am Nation citizens are those who think, feel and act as spiritual beings in a physical body. They are of every religion, philosophy, gender, country, race, age, profession and craft, social status.
They are striving unconditionally to be the high Self, the Christ Self, the I am that I Am. They automatically are a network of light which circles the globe sending and receiving the thoughts of faith, strength, love, wisdom, will, power, imagination, understanding, order, zeal, regeneration and elimination. They radiate these spiritual thoughts to every living creature on our beloved planet Earth.
They are quiet families and homes, schools, communities. They work in every business, profession and public service where they strive to bring equality, fairness, higher standards into every aspect of their efforts here and now.
There is no formal membership or dues to learn how to evolve deliberately into conscious and unified citizens of the I Am Nation. We have spoken the word of Truth and set the tone. So now we will be it!
Preparation & Fulfillment
Even before you and I completed all four weeks of working with our I Am power of elimination and transmutation, we were being prepared for, and even began to experience, the birthing of our golden light body. In my case, the initial work and training for this began in my series of four contacts with El Morya/Mark of the First Ray of Faith, Will and Power on November 15-19, 2021.
In my first communion with him, his presence was so powerful, especially in my two lungs, that I thought I could not hold it. He seemed to be eight-ten feet tall in his glowing, vibrant, power-packed light body.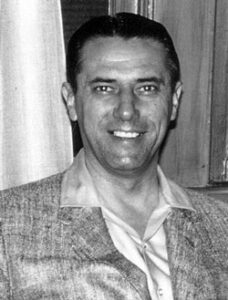 This is not usually the case with his contacts with me. I have had so many such communions with him that I typically feel comfortable with his First Ray power and presence. But this time, my two lungs really hurt, to the point that I could hardly breathe. El Morya's power had been stepped up to another whole degree, to which I had to adjust. (See photo to the left of Mark, the one I love the best, which best conveys his power and mastery in his heyday when he was incarnated here on Earth.)
The same thing happened the next day, November 16, when once again, even more powerfully this time, El Morya descended and transfigured me. I had had a day to get used to this new level, but still my lungs were seared with pain and discomfort. Then, he gave me the theme of working with 6 men and 6 women in my current blog, hence something very definitive and practical.
Crossing Out Cain Consciousness
At the same time, however, I found myself thinking about my initial dream of being a Cain that I had in 1976. In it, an etheric master had burned his divine will into my lungs and insisted that I go with him and other fallen golden giants to Venus for our ongoing Third Ray transmutation with personal love. Our errors had been with the misapplication and misuse of this Third Ray that led to selfishness and self-power.
This past, dream lung pain was just like the current pain I was sensing. I had the very same emotional response of feeling guilty, filled with shame and not wanting to admit my Cain mistakes. Here it was again, in this time of now. So what was going on?
When I asked El Morya what all of this meant, he conveyed via mental telepathy that he had been the original First Ray master who had led the removal of the error-filled Cains to Venus! This only made sense, because I knew from Nada-Yolanda's intunements and channelings that El Morya some 26 million years ago already was the Chohan and Director of the First Ray of Will and Power.
Who better than him, therefore, to wield his sword of truth and to cut out the error of Cain consciousness back then? So, my current exchange with him was a repeat of the past. And it was something that I had not once considered before having this current communion with El Morya. Needless to say, I was deeply troubled, cried like a baby and begged him for his forgiveness, which of course he immediately offered and I gradually accepted.
He Will Take Me Home
This experience also helped to explain my contact the day before with El Morya in which he had proclaimed that he had come to take me home. At the time, I did not understand this statement. Was El Morya coming to take me home to his home planet of Neptune, the primary First Ray planet for the whole solar system, of which he is the Christ or Prince, just as Sananda is the principle wayshower and leader of Earth? Well, that seemed possible, since in the upcoming couple weeks, the first planet we will focus on will be Neptune, with the Temple of Neptune being on Olkhon Island, Lake Baikal, Siberia, Russia. But somehow, this did not seem to be El Morya's primary message.
So, was El Morya going to take me home to I Am or Christ consciousness? This possibility seemed more likely and more apropos of what I was feeling with him. And still, it did not seem like the whole or central message of his proclamation.
Finally, with his help and supervisory presence, the realization came that he was going to take me home to Earth 26 million years ago when he had banished me and other fallen golden giants to Venus!
Hence, Venus and Venusian Third Ray consciousness was to be my new home in which I would transmute my past selfishness, self-power, self-aggrandizement; and replace these with pure Third Ray personal love. I was to be in Venusian Personal Love consciousness, hence my upcoming contacts and experiences with Anna, who is the twin soul of Lanto, Chohan of the Third Ray. Then, I could come back home to Earth in this time of now, which I sense is my primary home planet, for I am a Seventh Ray worker and Earth is the solar system's key Seventh Ray power center.
Back to the Beginning
Moreover, and even more powerful, was that he was going to take me home to the time before I had "flinched" and become a Cain, when I was still in I Am or Abel consciousness, when I had not tried to enslave those of the fallen subrace but rather focused on uplifting them them back to their spiritual heritage as being sons and daughters of our One God, hence members of our One Family of men and women through the solar system and beyond.
El Morya explained the cosmic principle that in deep soul healing, one has to go back before the "fall" into mortal consciousness, so that one can remember and reexperience what it is like to be a true golden giant, not such a giant whose golden light is marred by the darkness of materiality and mortal power and selfishness, and therefore is no longer purely golden. Only by remembering and reabsorbing the past are we able finally to rise about it and beyond it.
After all, whether we have deep soul recall or not, as given in the book of Genesis in the Holy Bible, our Father-Mother God originally created us in His-Her image and likeness. We thus are holy, God-like beings, golden sons and daughters of our Cosmic Parent. That is what we are to remember and re-experience no matter what we have done in the past. Then, we can accept God's forgiveness, as given via Sananda, Sol-O-Man, Anna and El Morya, as well as other master teachers, angels and Elohim. We can let the past go and live in the immortal present. We can be healed in mind, body and soul!
Thus, whether we have specific recall or not, we are to have First Ray faith in this fundamental truth: I Am a child of God; I Am a golden giant; I am that I Am. So be it!
Finally, El Morya shared with me that my upcoming transmutation of the Cain karma would allow me to become more fully Soliel of the Sun, in a whole new level and expression of my higher solar-system talents. As long as I was indebted to and embedded in past Earth karma, going back 26 million years, I could not fully ascend in I Am or Soliel consciousness, to be one who shines like the sun, one who has evolved throughout the solar system in preparation for this lifetime on Earth.
Initial Confirmation
Given the magnitude of El Morya's message and revelation, I thought that what had been given to me probably was accurate and right. But as the day went along, I had my doubts. Was this just another example of "reverse receiving" in which I subconsciously had made up or colored this whole scenario, due to my residual shame and guilt? Was this just some grandiose flight of fancy in which I allegedly was recalling things from 26 million years ago? Could I really be having recall of those ancient days? Pondering this, I asked Spirit and the agents of Spirit, including El Morya, to give me confirmation.
It initially came that afternoon. In the morning I had posted my latest blog titled "May I Have This Dance, Part II." In it, I had worked hard to rightly share about my past relationships with MariLyn, my ex-wife, and my brother of this lifetime. I had deliberately not gone into the dark details of what I thought each of them might be thinking and feeling. Rather, I did my best to focus primarily on my own darkness, healing and overcoming. With MariLyn, I concentrated on my past dream of dancing with her in such a masterful way and then of each of us choosing of our own free will to go our separate ways for now. She had not left me and I had not left her. We had decided, rather, that it was Spirit's will that both of us would separate physically.
In terms of my brother, I followed the guidance of a prior dream given to me in which I saw two brothers, one who symbolically was a square and the other one was a circle. As a square or circle, it is tempting to think that the other person has to be just like you, that they are imbalanced and at fault in any disagreement that you two have. My brother and I are different, as are all brothers and sisters. We each are unique beings, with unique soul histories, so we cannot misjudge one another by thinking that he or she has to be just like us, and think therefore that they are the problem. The problem, rather, is not loving the Christ in the other person, for who and what he or she is, not what we want him or her to be. Moreover, we cannot change anyone else, but rather we only can change ourselves.
I felt really good about how I had handled this blog. In the late afternoon, in my meditation, El Morya contacted me, filled with a bright smile and love, quite the difference from the earlier communions in which he had wielded the sword of truth with me. And he proclaimed: I give you the grade of A for this blog, which was high praise indeed, mind-boggling even. (Later, Phillel and others, without my asking them, had good and positive things to say about this blog.) Also, El Morya said that the "A" grade also stood for Abel consciousness, that what I had written and posted proved that I now was in I Am or Abel consciousness; that I had returned to that state of consciousness before I had "flinched" eons ago.
Another Piece of the Puzzle
Another 10 days later, on November 29, 2021, while laying in bed, getting ready to sleep, I felt sharp, persistent pain in my neck, shoulders and upper back; especially so in my left neck. While working with my hands to massage my muscles and use pressure-point therapy to dissolve my pain, I was suddenly overshadowed with violet light, which in time I realized was coming from the Elohim of 6th Ray Purification. This was the first conscious contact I had had with this Elohim, which had been made possible by my earlier soul healing and transmutation work. I now was capable of rightly communing with this Elohim, whereas before this Elohim had worked with me in the silence, outside of my mortal awareness and comprehension.
Feeling totally at peace, I went into a deep sleep, out like the proverbial light. Three hours later, upon awakening, I remembered a vivid dream. In it, two very sweet ladies, one older and more accomplished than the other, had attended to me in some sort of hospital or healing center. The older one reminded me of Nada-Yolanda and the younger one had features that were similar to Serena-Aleta, who had been my physical mother in her last lifetime with me.
These two soul healers, representing numerous other soul healers in the higher astral planes, started showing me an hour-long movie or video of scenes of my ancient past life or lives. Upon awakening, I was only in the first part or 5-10 minutes of this movie, and even that I could not remember.
Nada and Serena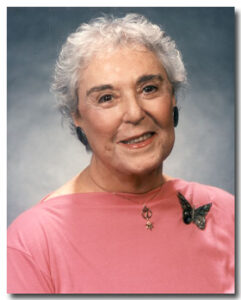 Interpretation: Meditating on this dream the next morning, I felt communion with Nada. Only she, after all, as Nada of the Karmic Board, would have the talent and ability to accurately recall my ancient past lives going back to Cains and Abels.
Nada was currently in the etheric realms, but she had descended into the higher astral planes where Serena-Aleta, my twin soul on the Seventh Ray, now resides, in order partly to teach Serena-Aleta a new level and proficiency in recalling and presenting past lives to those in the healing hospitals of the higher astral planes.
Plus, my sense is that somehow Serena likewise was involved with me in Cain and Abel days, and therefore was recalling her own karma, which she has to correct and transmute in her role as my twin soul and our functioning together on the astral and Earth planes in healing humanity.
A Pain in my Neck
Then came the kicker, another key piece in the puzzle of my soul past: I had the overwhelming intuitive, clairsentient impression that my left neck pain was due to a residue from the days of Cains and Abels, when I not only had left Sananda but also, and more specifically, had left Sol-O-Man. Oh my God!
I never once had considered or thought about this. And even now, I was not sure it was right. Again, it was too new, even a bit too pat, as well as being so overwhelming to think and recall that I had left my Master Teacher, Sol-O-Man, way back then. My God, did this possibility ever hurt my heart, my neck, my whole being! As always, I asked Spirit for confirmation of this recall.
(Interestingly, from the time of my spiritual awakening, I had had periodic pain in my neck. Chiropractic and massage had helped this, but I was always doing neck rolls and stretches to try to relieve my neck discomfort. In other words, my neck pain probably went back a long way, and I now had to some degree received its source in the earliest days of my climb up the spiritual mountain to I Am consciousness.)
I concluded that if this recall was accurate, it might go a long way to explaining why I still have Afib, despite all my spiritual growth and soul healing in the last 4-5 years, especially recently. This may well be the very bottom of the dark night of my soul, the very remaining black sludge at the base of my body. Also, note that my neck pain was on the left side, hence the subconscious aspect. (I cannot imagine anything worse that disobeying and leaving one's master teacher. It's probably a good thing that I had not recalled this earlier, or I may well have let it destroy me.)
Along these lines, please note that it came right after having my first conscious communion with the Elohim of the Sixth Ray of Cleansing and Transmutation. No wonder this Elohim had come to assist me in dealing with my darkest of recalls. I felt so at peace, so Mothered, so hugged by my Father in this and the following three communions I had with this Elohim. (This goes to show us that even in our darkest moments, Spirit and the agents of Spirit are always with us and helping us.)
One with Sananda
Five days later, on December 4, 2021, in my morning meditation, I communed with Sananda-Jesus. In particular I noticed that he had a golden spine, and that he beckoned me to align my golden spine with his, so that we would become one continuous, united spinal column of golden light.
After several attempts to do so, finally by the end of the dream, he and I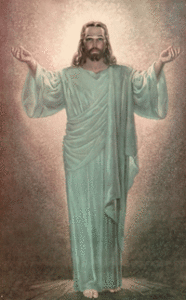 were satisfied that the necessary alignment had been accomplished. In one image, his spine was above mine, such that we comprised a pole of golden light from the etheric realms, down through the astral planes to the physical plane. In a second image, our two spines were intermeshed together as one spine, here on this plane.
Frankly, when I awoke, I did not truly understand this set of dream images, although with time it became perfectly obvious. One of the clues I missed is that our two spines were gold in color, hence of our light bodies. Thus, this exercise was a light-body communion. The core, Christ, spinal column within him at his center was one with mine. As above, so below. As within, so without.
In terms of the 12 Powers, my I Am Christ attribute of strength, stability and steadfastness was at-one and fully aligned with Sananda-Jesus' spiritual strength. El Morya had conveyed a renewed faith in my Godlike wholeness and heritage, and now Sananda had added strength and steadfastness. The spiritual rebirth of my light body was gaining momentum, with first the activation and acceleration of my crown chakra/cerebrum, and then down my spine/spinal cord and nerves.
Be a Christ Ruler
Two days later, in my early morning prayers on December 6, 2021, I began by surrounding myself in a citadel or tower of First Ray blue light. Once I was securely ensconced and protected in this column of light, Spirit and the agents of Spirit lifted me up through it via the astral planes, where I communed with my twin soul, Serena; and from there into the etheric realms and communions with the Conrad group of space brothers and sisters who from their spacecraft monitor and assist Phillel and me, and protect our I Am Nation property here on Earth.
In ascended I Am consciousness, I linked with Conrad, Sananda and Sol-O-Man; and with all of the Seven Chohans or Directors, Archangels and Elohim of the Seven Rays of Life. An extraordinary bond of oneness, integration and unity was established between us, lifting me into a higher state of peace, love and rest.
From out of this grouping and united cosmic forcefield of archangels, ascended masters and Elohim emanated a single, clear, powerful voice that proclaimed: "You are the President of the I Am Nation."
Quickened and deeply moved, at first I pondered this statement as pertaining to our Mark-Age, Inc. corporate structure that meets all regulations of our being a tax exempt, religious-spiritual educational organization as required by the Internal Revenue Service (IRS) and the state of Tennessee. In our corporate functioning, Mark-Age has a minimum of three Directors and four Officers (President, Vice President, Secretary and Treasurer).
Currently, Phillel and I are equal Co-Executive Directors, with Phillel's brother, Jonathan, being the third Director. Phillel is President, I am Vice President and Treasurer, and Jonathan is Secretary.
Since 2005 when Nada-Yolanda made her transition and ascended into the etheric planes, Phillel and I have switched back and forth between being President and Vice President. The term of the President is five years. So I wondered if now I would become President once again. In reality, however, it makes no difference whether Phillel or I am President, because he and I function together as co-Presidents, not as President and an underling Vice President, despite what our official role or designation is for legal purposes.
Be the President of your I Am Nation
Next, it came clear to me what this above dictum also and primarily meant: I now had crossed over the threshold such that I would resurrect as the I Am President and Director of my own I Am Nation, which is composed of my four lower bodies: mental, emotional, soul-astral and physical. I Am to rule from above, in immortal I Am consciousness, to below and in and through my mortal level of consciousness.
So, here was a fulfillment of the previous dream I had with Sananda about my aligning our two golden spines together. For Sananda in the higher spiritual sense and spiritual government or Hierarchal Board of this solar system is the President, primary leader and executive director of the spiritual I Am Nation on Earth. As a Seventh Ray worker, I serve directly under him, as his stand-in and representative until he redescends in his light body in the Second Coming.
I Am to be like Sananda in not only helping to rule all I Am Nation divisions, like the University of Life and Healing Haven; but, also like him, I Am to be an ascended master on Earth who rightly rules and expresses via my 12 Christ or I Am powers as expressed through my four lower bodies. I, when I be lifted up, will lift all others unto me.
Go and Do Likewise
This same principle and practice applies to each of you who read and act upon my blogs. You, too, are now to be the President of your own branch of the I Am Nation, composed of your thoughts, feelings, memories and physical form; and the place or building where you live. Be a golden ruler, one who rules with Love of God and Love of One Another. So this week, think of yourself in this new way, or new and higher degree of what you have been doing and demonstrating for years now. In other words, be a pure golden giant.
See yourself as being one with El Morya, Nada, Sananda and Sol-O-Man. Align your spine with each of their spines. See golden light in the Christ column of light and power that you have visualized and anchored around you. In all instances, put your love in action.
Two Golden Hearts as One
Having eventually centered myself into I Am, presidential consciousness on an individual and group level, I thought my communion with those in the higher planes was over. But, instead, from out of the midst or center of the group of chohans, archangels and elohim (who I did not see as individual, specific forms) emerged Sananda. He was radiant in gold and white light. All I could specifically discern of the details of his light body was his golden heart, which especially sparkled with golden energies and emanations. I was transfixed while viewing his golden heart, so much so that I hardly realized that he walked right up to and in front of me.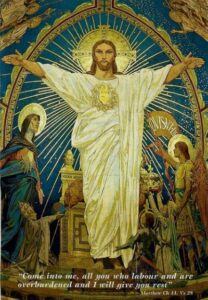 Then, he merged his golden heart with my golden heart, such that I was totally electrified and quickened to a whole new level of divine love. I could not even determine where his heart ended and mine began. Our hearts were one heart in the heart of God! (Picture to right is of the resurrected Christ Jesus with a golden heart at Sacre-Coeur, Paris, France.)
This is how I am to be President, and to guide, encourage and embrace my four lower bodies and those of all others, especially those who already are devoted to the Second Coming program. It is with a golden heart that I am to dance with others.
Herein is the next step in healing my heart of its current, but hopefully not lasting much longer, Afib. But, with or without a perfectly normal physical heart, I Am to love with my spiritual, golden, light-body heart that after all is in perfect shape and functions in a totally healthy way. By helping others, I will be helped and healed.
Ancient Karma Cleared
Needless to say, as I have covered previously, all of this current love work goes back to the days of Cains and Abels, when I was a Cain who somehow, in some way, "flinched" and did not follow Sananda as leader of the Abels; or Sol-O-Man as his twin soul and counterpart. That ancient karma is nearly healed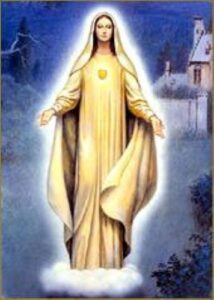 and transmuted, at least to the degree that I can have the above vision and experience. This is the first such vision I have had of Sananda doing this, of there being such a "physical" transmission and anchoring of golden love vibrations from him to me, of his merging his golden heart with mine.
Over the next few days, I also envisioned Sol-O-Man before me, looking like the painting of her from her multiple  past light-body visitations in Beauraing, Belgium from 1932-1933 (See image to right.)
I began to feel a much deeper and purer communion with her, heart to heart. Always, she has been there for me, throughout my spiritual growth this lifetime. Now we get to dance in a whole new way, as mother and son, teacher and disciple, two whose hearts are one in the One Heart of God.
One with Sananda and Sol-O-Man
And you are to experience the same, this week or later, in your own time and way. Ask Sananda, and/or Sol-O-Man to visit you, to enter your heart-of-hearts, to be one with you in love divine. Ask and you shall receive, whether or not you have a vision of this. Simply affirm and know that such is the case, so that you deeply feel and experience that it is so. Start right now to visualize this, to realize that it is now occurring. See the future as now, when your golden heart is one with Sananda's and Sol-O-Man's golden hearts.
Do not worry about whether or not you have had recall of past lives. Rather, focus instead on being still and knowing that our Father-Mother God has created you in loving wholeness, that golden light is your very birthright and identity. If Spirit determines that you need to have recall to enhance this, then it will happen in its own time and way. Be careful not to try to force this. Go with the flow. Be the unique, beloved child of God that you are. Your story is precious! And is still to be written in its entirety.
Elohim of Peace and Love
To cap off my series of I Am rebirth experiences thus far this Christmas cycle, on December 7, 2021 (a 7-day), while laying in bed relaxing and getting ready to go to sleep, suddenly in my inner vision, I perceived and felt a series of balls or clouds of powerful golden light around my head, moving down to the rest of my body.
With this gold vibration came the experience and feeling of transcendent peace and love of the Seventh Ray. This was the Elohim of Peace and Love overshadowing and flowing down through me. The imagery was similar to how I had perceived the Elohim of Purification, but this time the vibration definitely was that of peace and love. It filled my heart to a whole new level and depth.
Afterwards, my inner heart, probably my astral heart, felt as whole, healthy and holy as it ever has this lifetime. There is definitive, noticeable, psychically tangible progress in my heart. But still, the 6th Ray Transmutation is not complete, the infilling of Seventh Ray peace and love has not reached its fulfillment. My physical heart is still in Afib.
As always, I have no idea when my heart will be wholly healed and returned to normal, regular, sinus rhythm. But all is well, all is in divine order. It will happen when it happens. In the meanwhile I will continue to do my best to Love God and Love One Another, and to use the best of all conventional and non-conventional, proven therapies to enhance my holistic healing. And I am giving thanks ahead of time to Spirit for my healing, which is to come, for the glory of God. So be it.
(By the way, Nada-Yolanda first had two conscious communions with the Elohim of Peace and Love way back in 1960, just 4-5 years after her spiritual awakening, when she was starting her second major spiritual initiation of baptism with fire and water; as noted in Autobiography of a Prophet. See pages 245-246 and 262. Thus, regardless of where you are in your spiritual growth, you too are capable of having conscious contact with the Elohim.)
Merry Christmas
Peace and love be unto you! Here's to the rebirth of the golden Christ in you! Here's to your ongoing communions with your I Am Self, with higher astral plane guides, with ascended masters, with archangels, with the seven Elohim of the Seven Rays. And thank you, as always for your prayers for me. They are deeply appreciated. We are all in this together. We all are dancing the one dance.
Speaking of which, check out this wonderful YouTube video/song called Celtic Heart with Justin Hayward, who was the lead singer of the British rock group Moody Blues from 1967-1974, who then worked with other bands and his own solo career. I love this song, but especially all the references to, and images of, dancing. It helps to wrap up this whole 3-4 month project of dancing in the light. It's like it was made just to be played here, as we begin to resurrect, to be born again in the light of a new day. https://www.youtube.com/watch?v=lnVnVWrwwnU
Jonathan Jacobs emailed this YouTube video to me, plus I posted it on my last blog in the Comment section. Thanks Jonathan!
Touring the Thirteen Temples
Usually with my blogs, I prefer to take a break of about 10-14 days around Christmas, so that you and I can focus primarily on the birth of the Christ worldwide.
This coming year, however, my plan is to devote four weeks to touring the sun and to linking with all of the 12 planets and their corresponding temples here on Earth. So, that means that it will take 52 weeks to do so, in other words 4 weeks times 13 temples equals 52 weeks.
Therefore, I am going to post my first blog in this series on Monday, December 20, 2021, one day before the winter solstice here in the Northern Hemisphere. And then to post one blog each following Monday. That of course means that there will be no time to focus only on Christmas and rebirth. So, get ready for the tours of your life!
After all, the birth of the son of God, Christ Jesus, is like unto the birth of sun or spiritual consciousness. So we will celebrate both the sun and the son at the same time. Double duty, like always these days.
I am also posting below in another way the MP3 file of the song I Am Golden Light, just in case it does not work in the original setting at the beginning part of this blog. I never know how such media files are going to look or be present in the emails that go out to all of you who subscribe to these blogs; they typically are somewhat different than how my original blog looks online. This the first time I have posted a MP3 file.
So here is the link to the song. Click on it, then URL that shows below it: I Am Golden Light2