Here's a wonderful, children's version of the classic: This Little Light of Mine, I'm Going to Let it Shine, as performed by Wesley's Wuppets. And hey, are we not all children of God?
Do watch the whole thing. It gets more charming as it goes along.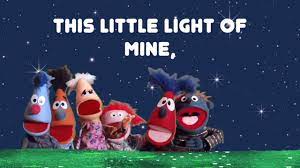 Be like a little child. Sing. Seven days a week. Enjoy!
DJ Doc K