Here's our song for today: Beautiful Star of Bethlehem by Home Free and the Oakridge Boys.  As you know, the Star of Bethlehem was Sananda/Jesus' city-sized spaceship #10 in the etheric or Christ realms, which continues to shine its light on all of us who are birthing the Christ within and without in the Christ Mass Season.
The whole spiritual Hierarchy, via Sananda and Sol-O-Man/Mary aboard her sister spacecraft, are joining with us in this monumental outpouring of Spirit upon all flesh during this Christ Mass cycle, this new step forward in birthing light, love and peace to launch a New Day and a New Dispensation of Christ awareness and consciousness. Born again, we are born again. So birth and be it.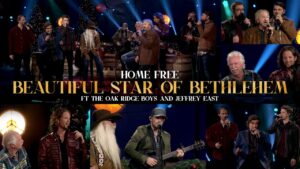 Click STARBETHLEHEM  to see and hear this song-video. Be blessed by your own Star of Bethlehem that is right above you, right now, until January 6th, Epiphany. Lyrics are below. I love the harmonies of these two groups gathered together as one. Goosebumps!
DJ Doc Starlight & Starlove
Beautiful Star Of Bethlehem
O beautiful star of Bethlehem
Shining afar through shadows dim
Giving the light for those who long have gone
Guiding the wise men on their way
Unto the place where Jesus lay
O beautiful star of Bethlehem Shine on
O beautiful star the hope of life
Guiding the pilgrims through the night
Over the mountains 'til the break of dawn
Into the land of perfect day
It will give out a lovely ray
O beautiful star of Bethlehem Shine on
CHORUS
O beautiful star of Bethlehem
Shine upon earth until the glory dawns
Give us a lamp to light the way
Unto the land of perfect day
O beautiful star of Bethlehem Shine on
O beautiful star the hope of rest
For the redeemed, the good and the blessed
Yonder in glory when the crown is won
Jesus is now the star divine
Brighter and brighter He will shine
O beautiful star of Bethlehem Shine on