Here is Alan Jackson singing one of my favorite Gospel songs: Precious Memories.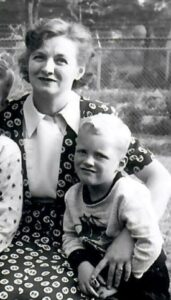 Upon hearing this heartfelt song, I usually am emotionally moved as I remember my Mom, Aleta, and me when I was a young boy, before age 7 when my baby sister died and Mom was hospitalized and treated for depression.
That's me in the picture with her, with my squinting into the sun because my blue eyes were so sensitive to sunlight. I was 4 years old. She was as an "angel" to me. In some many ways, she had her "arm" around me in these youthful, growing-up days.
I currently feel her loving presence from her perch in the seventh astral plane where she is called Serena. And I look forward to being with her again, in a new relationship, in my incarnations to come. Hi, Serena/Aleta! I love you! Always have. Always will.
https://www.youtube.com/watch?v=dhGOFC3kPDc
DJ Doc K