Friends, I woke up this morning, September 28, 2022, with the song Santa Lucia ringing in my mind, as I remember it being sung by the famous tenor, Luciano Pavarotti.
I went online and did some research, first to get the song and its lyrics in English, then to understand who St. Lucy (Santa Lucia) was. Well, she was the daughter of wealthy parents, 283-304 AD,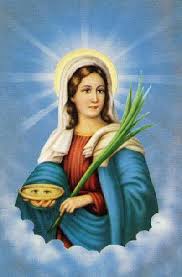 who was devoted to Jesus. When her parents tried to marry her off to the nearby son of wealthy parents, Lucy refused. She instead chose to remain a virgin and to serve the poor, to give her dowry to them.
When her husband-to-be found out that she had rejected him, he went to the local authorities who had her imprisoned. When this local leader insisted that Lucy pay tribute to him and his leader, she refused. So, as legend states it, he had her eyes cut out; other versions are that she cut out her own eyes when another suitor said how beautiful her eyes were. (In the above/right image of her, note how her two eyes are in the platter she holds with her right hand; while she is on a cloud, hence in the heavenly spheres. Plus, light radiates from her head — see why below.)
In any case, she was tortured and killed. But when she appeared afterwards, her beautiful eyes had been restored. Click here to read a Wikipedia article about her.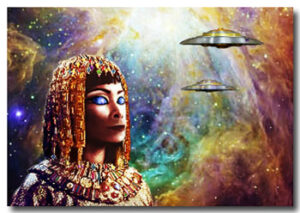 As I shared in my last blog, a space lady named Lucia or Lu-See-A is from the planet Vulcan, the highest vibrational planet in the solar system. She presented herself to me symbolically via a computer-generated picture by Hartmut Lange, in which she has extraordinary, huge, beautiful eyes that radiate light. (See left/above.) Upon seeing her in my night vision, each eye had sixteen, clear, diamond-like crystals in them, whereby she sees throughout the solar system with its 12 planets and into the 16 bodies of all children of God.
At the time I received and wrote about all this, I seemed to remember the song about Santa Lucia, but at first I thought that this name was that of one of three ships of Columbus; but that was Santa Maria, named for Mary, mother of Jesus. Only this morning did I feel impelled to search out the song. And the one that I like best is sung by Luciano Pavarotti. Please note that his first name is Luciano, hence the male version of Lucy. Both names come from the Latin word "lux" that means light. St. Lucy was a bearer of Christ light, who had wondrous, light-filled eyes. She died in love with her Savior, who restored her sight on the other side.
I took this whole series of events and receivings as confirmation of the name I had received for the Lady of Light, Lu-See-A, whose home planet is Vulcan. Spirit sure works in wondrous ways!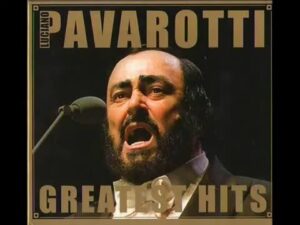 Please also read the following article about Santa Lucia, whose feast day amongst Catholics and others is December 13th, in the depths of winter and its dark days. Saint Lucy is said to be the bearer of light, to usher in spring's light. In the mythology of her, she served those early Christian martyrs who were forced to live in the dark catacombs. When she went to help them, she wore a crown of candles on her head to light the way. Hence many paintings of her shown her with a crown of light or having candles in it.
This article talks about how this December 13th celebration is performed in Sweden and other Nordic countries, but it includes an overall account of Saint Lucy. And it includes the English translation of the lyrics, which of course Pavarotti sang in Italian.
Enjoy,
DJ Doc K, who loves Lucy/Lu-See-A