Here's our Thomas treat for today — the classic song: Smile by Lucy, Martha (her sister) and Louise (their Mum, as they spell and say it in England). Now we see where Lucy and Martha got at least some part of their voices, as in apples off the same tree. The song is in celebration of Mom's Day, March 19th, in Great Britain where the family live. Click here to see and hear it.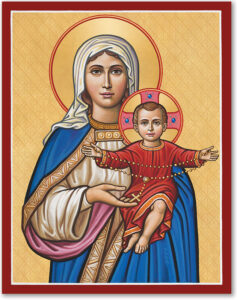 Join with your English sisters and their Mum, and bless your Mum/Mom, whether she be on Earth or in the astral planes, especially on whatever date your country celebrates this day. In the USA, it is on May 14th.
And we can celebrate Mom/Mum's day with Mary the Mother every day of the year. Now doesn't that bring a smile to your face!? Especially when you imagine yourself as being a young child sitting on her lap.
Enjoy, DJ Doc K